2022 CAN AM RYKER 900 ACE RALLY ROTAX SPECS AND REVIEWS
Engine and transmission

Displacement
1330.0 ccm (81.16 cubic inches)
Engine type
In-line three, four-stroke
Engine details
Rotax® 1330 ACE engine
Power
115.0 HP (83.9 kW)) @ 7250 RPM
Torque
130.0 Nm (13.3 kgf-m or 95.9 ft.lbs) @ 5000 RPM
Compression
12.2:1
Bore x stroke
84.0 x 80.0 mm (3.3 x 3.1 inches)
Valves per cylinder
4
Fuel system
Injection. Multi-point EFI
Fuel control
Double Overhead Cams/Twin Cam (DOHC)
Cooling system
Liquid
Gearbox
5-speed
Transmission type
Belt   (final drive)
Clutch
Wet, multi-plate
Exhaust system
Exhaust system 2-into-1

Chassis, suspension, brakes and wheels

Front suspension
Double A-Arm with anti-roll bar.
Front wheel travel
130 mm (5.1 inches)
Rear suspension
Swing arm with monoshock.
Rear wheel travel
132 mm (5.2 inches)
Front tire
165/65-R15
Rear tire
225/50-R15
Front brakes
Double disc. Brembo
Diameter
270 mm (10.6 inches)
Rear brakes
Single disc. Brembo
Diameter
270 mm (10.6 inches)
Wheels
Metallic silver
Physical measures and capacities

Dry weight
386.0 kg (851.0 pounds)
Power/weight ratio
0.2979 HP/kg
Seat height
737 mm (29.0 inches) If adjustable, lowest setting.
Overall height
1099 mm (43.3 inches)
Overall length
2642 mm (104.0 inches)
Overall width
1497 mm (58.9 inches)
Ground clearance
115 mm (4.5 inches)
Wheelbase
1709 mm (67.3 inches)
Fuel capacity
27.00 litres (7.13 US gallons)
Reserve fuel capacity
4.50 litres (1.19 US gallons)
Oil capacity
3.90 litres (4.12 US quarts)

Other specs

Color options
Black
Starter
Electric
Light
2 halogen headlamps (55/60-W)
Factory warranty
2-year BRP Limited Warranty with 2-year roadside assistance
Comments
Three wheel bike.
Engine idle speed:
850 ± 50 U/MIN
Tyre pressure (front):
1,6 BAR
Tyre pressure (rear):
1,6 BAR
Capacities*
Engine oil w/o filter:
SAE 5W-40 VOLLSYN.
Engine oil with filter:
3,2 L API SL-SN
Final drive oil:
335 ML 75W-90 GL5
*Always verify maintenance and service data with the bike owner's manual.
---
MORE PHOTOS OF CAN AM RYKER 900 ACE RALLY ROTAX
PRICE AS NEW AND USED OF CAN AM RYKER 900 ACE RALLY ROTAX
CHECK CAN AM RYKER 900 ACE RALLY ROTAX FOR SALE IN EUROPE
REVIEWS AND COMMON PROBLEMS WITH 2022 CAN AM RYKER 900 ACE RALLY ROTAX
The Ryker Rally – A different, fancy, monster-cycle
Can-Am created the Ryker for everyone, from casual enthusiasts to seasoned veterans. Their whole collection of three-wheelers is designed to attract new riders while also keeping current riders on the road longer than traditional motorbikes.
Since the introduction of the Ryker, they have been actively and purposely changing the face of riding, and they have been enormously successful.
Can-Am even extended an invitation to its detractors in 2020, saying that everyone is welcome. Even if you have no desire to ride on three wheels, I'm sure you've yearned for someone in your life to fall in love with riding, even if they have no interest in motorbikes at all.
I recommend that you continue reading. If nothing else, because it is highly user-friendly for novices, the Ryker can open the door to having fun on the open road where a wall previously stood. That is something we can all agree on.
Is it really so fun?
For me, one of the most crucial parts of the Ryker is how much less stressful riding is in general.
-Three wheels means no balancing, checking for slick ground where I intend to stop, fighting to put down my kickstand, or reading the road slope to pick which foot to put down (I tippy toe most modern bikes with my 29-inch inseam).
-There's no clutch, changing, or wondering what gear I'm in with CVT – plus there's reverse for parking convenience, no pushing or shuffling about on my toes.
-With linked brakes and ABS, I can stop my bike with a single push of my right foot, independent of the road surface, lean angle, or handlebar orientation.
How does it feel?
Beginners should rejoice. It is also relatively simple to learn to ride with only three basic controls: handlebar, throttle, and foot brake. It doesn't get any easier than this: just roll on the throttle to go and hit the footbrake to stop.
Body posture took some trial and error until I realized that weighing the pegs and leaning into the corners was the correct way to go. Because there is no power steering, the Ryker requires considerable upper body strength, and twisting roads are certainly a workout.
Maintaining a relaxed grip is also important since even a small amount of weight on the handlebars causes the Ryker to react – it is, after all, a control input – and this made things feel a bit chaotic (strictly rider error). I have to tell myself not to press on the handlebars and resist the impulse to countersteer for the first 5 seconds every time I move from a motorbike to the Ryker.
Features
The UFit system is one of the Ryker's most amazing features. The Ryker can be drastically altered in less than a minute, making it easier to get the correct fit than on any other production motorbike, Trike, or Spyder.
-Without the need of any equipment or even a second hand, both foot pegs may be adjusted forward and backward with an astonishing spread of more than nine inches. On the right, the brake pedal moves in tandem with the foot peg, allowing for quick changes.
-The angle of the brake pedal is also simply changeable without the use of equipment to accommodate any riding style or foot size. -I've even adjusted the footpeg location and brake lever angle while stopped at a red light.
-The handlebars may be moved nearer or farther from the rider over a 4 inch range, adjusting both the reach and seating position based on the user's unique measurements and preferences.
-KYB HPG front with preload adjustment / 6.38 in (162 mm)
-KYB HPG 40mm rear shock absorber with remote reservoir, 4-position compression adjustable damping, and preload adjustment / 6.89 in (175 mm)
Every time I go off-road, I alter the footpegs, brake lever angle, handlebars, and rear suspension, so being able to convert back and forth so rapidly, without tools, assistance, or significant strength, is simply amazing.
When it comes to personalizing one's appearance, the possibilities seem limitless. Can-Am claims there are over 75,000 distinct color combinations and clip-on accessory combinations, so no two Rykers will be the identical.
This year, I've changed the color of my Ryker three times, and each change takes around ten minutes. I could almost bear changing the colors every trip because changing the panels is so simple – now I just need a place to store all the extra panels. To test it out for yourself, go to Can-website Am's and use the build-your-own function.
Does it have enough storage?
A tiny storage compartment at the front of the Ryker has a USB charging plug and is large enough to carry a mobile phone, charging cable, sunglasses, hat, and a wallet or small zipped bag. I find myself wanting for the "frunk" to lock. Separately, an aftermarket locking mechanism can be ordered.
The MAX MOUNT tail piece is included with the Ryker Rally. This fits a variety of Can-AM accessories, which are offered separately. The MAX MOUNT tail is also ready to receive the LinQ rack, which adds even more baggage and storage options. I have yet to try these choices, but my fellow Ryker riders have raved about them.
Instrumentation – Equipment
The Ryker has no key. Just a little fob that snaps into place close to your left knee. This does have the potential for disaster; more than once, I walked away from the Ryker without getting my dongle.
The good news is that the starting method is highly distinctive – think back to early Nintendo's secret controller routines. Even with the fob in place, if someone wanted to steal the Ryker, they'd need to know the secret handshake or it wouldn't start.
Once you've done it a few times, it becomes second nature and is easy to recall. Start, roll the throttle forward, use the brake, and restart.
The single 4.5-inch display is crisp and simple to read. Unlike some other displays I've seen, it's not blindingly light at night. Optional/changeable information shown includes the speedometer, tachometer, odometer, trips, distance to empty, engine lights, fuel gauge, clock, and engine modes.
The buttons on the left allow you to swiftly and simply pick different objects to see and alter riding modes (more on those below).
The basic seat is a piece of hard rubber with a high lip at the back, and I couldn't wait to upgrade to a more comfortable seat. This is one of my few complaints. Although various body types would respond differently to the conventional molded seat, it got unpleasant for me after only a few minutes of riding.
There are various possibilities for upgrading – I tried two different seat upgrades, both of which were well worth the money. Can-seat Am's (seen below) is what I'm now using, and I adore everything about it, even the high-end aesthetic.
I also decided to upgrade my Ryker's MAX MOUNT with a passenger seat and footpegs. As a rider with a short inseam, I've never been able to take passengers on any of my motorbikes – balancing the bike alone is difficult enough.
I am quite comfortable transporting passengers on the Ryker. For the first time ever, I gave my Mom a ride this summer. The process was simple, smooth, and enjoyable.
AND MORE FEAUTURES…
There are four riding modes on the Ryker Rally: eco, standard, sport, and rally.
Eco performs as predicted, with better throttle response without being slow; ideal for rain, rookie riders, and passengers.
Standard is ideal for non-hooligan urban riding, with plenty of power but enough traction control to prevent rolling burnouts and rear wheel drifting through turns.
Sport mode is for when you want to experience all of the pleasure I just outlined – traction control is turned off and the torque is turned up to 110%.
Rally mode is your greatest buddy for off-road riding, as it disables ABS and traction control.
One thing I like about the Ryker is that it remembers the last mode you used and will restart in that mode automatically (except for Rally mode) (for obvious reasons).
My personal fave is sport mode. I couldn't stop laughing on every ride. It was difficult not to exaggerate since I knew the electronics had my back and high-siding was not an issue. If you struggle with self-control, this may not be the appropriate vehicle for you. Even at motorway speeds, the amount of torque is ridiculous. This creature constantly wants to leave right now.
Rally mode provided me with an altogether new set of roads to explore. When I'm riding the Ryker, I'm not worried about crashing my naked sportbike on a dirt/gravel/muddy road. I was astonished at first by how well it works and how simple it is to change the suspension to accommodate the extra bumps (just a twist of a knob).
With only 4.4 inches of ground clearance, the Ryker isn't built for hardcore off-road adventures, but it handles extremely well on hard-pack dirt and even feels stable and comfortable to ride in gravel and sand. It makes all the difference to be able to go out, let free, and not be afraid of a day-ending lowside. I love taking the Ryker off-road.
The Ryker has a Bosch VSS (vehicle stability system) that combines anti-lock brakes (ABS), traction control, and stability control.
When triggered, the Ryker's ABS is seamless and feels pretty smooth, which was unusual for me until I was riding fiercely in the mountains. Because of the "stomping on the brake" muscle memory most people have from driving a car, beginners may activate it quickly when startled.
Traction control was primarily active while I was cornering sharply and practicing my race starts after red lights. If you really crank up the throttle in sport mode, you'll get a nice rear tire screech and spin. Be prepared to let the rear tire slide about as much as you like in Rally mode, which should only be utilized on unpaved riding terrain.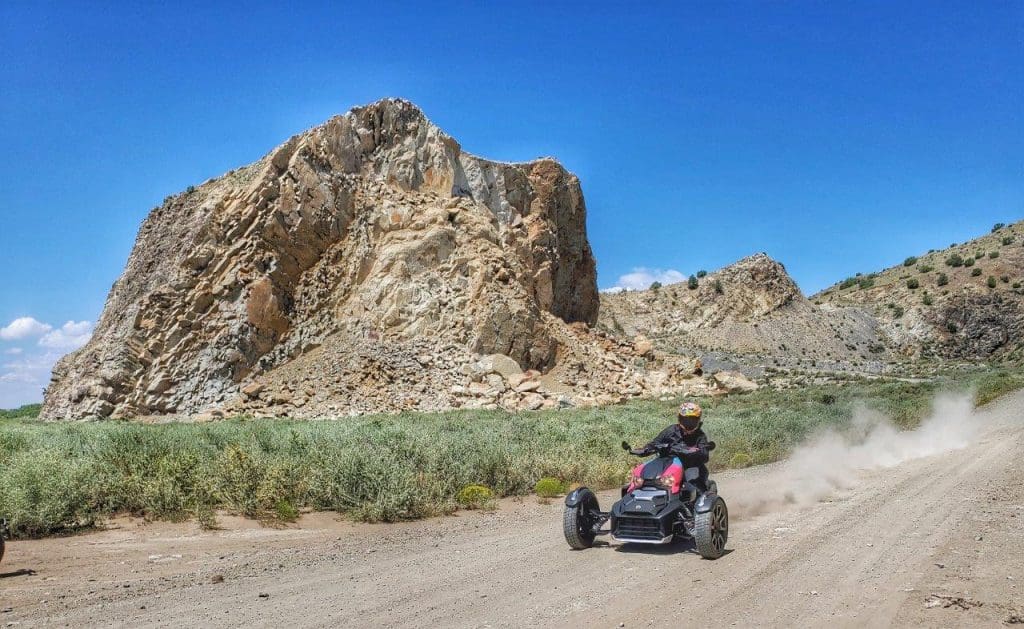 The stability control…
If you truly goof up, that is, if you push the Ryker past its stability limitations, the stability control will kick in. When I was riding the Tail of the Dragon, I frequently felt the engine "back off" owing to hard riding in sport mode on off-camber turns.
Stability control never pushed me over the yellow line on right-handers, but I'm sure it would if I had accelerated further. The good news is that, owing to this identical technology, the Ryker will not tip over. I know a few pros who tried and failed to get a wheel to rise off the ground.
Needless to say, I don't advocate utilizing the VSS as a cure-all for bandit riding, but it will protect the Ryker from flipping/tipping in regular on-road situations. There are no guarantees if you chose to take it over any nice dirt jumps (which you should not do).
Does it feel safe?
The Ryker is wider than a motorbike and has running lights strategically positioned on both front wheels, making it easier for other drivers to see from a distance. This was something I noticed firsthand while cycling around town.
People frequently stare simply because they have never seen anything like it. However, the lower ride height makes you less visible to motorists directly behind you, particularly trucks and SUVs, which should be considered.
And, of course, the Ryker, like a motorbike, fits perfectly into conventional blind areas, so there's no magic cure for visibility other than being attentive and diligent.
With no risk of dropping the Ryker, there's no need to be concerned about being able to lift up a big motorbike or becoming stuck/crushed below it. You don't even have to put your foot/feet down when you stop, so there's no risk of slipping, and there's also no risk of having your laces or slacks caught on a footpeg and tipping over.
If you stop the engine without first applying the parking brake, the Ryker will alert you with multiple loud beeps. It also beeps when you put it in reverse for the first time. This is vexing for me. Others may find it useful as a reminder. To everyone his or her own.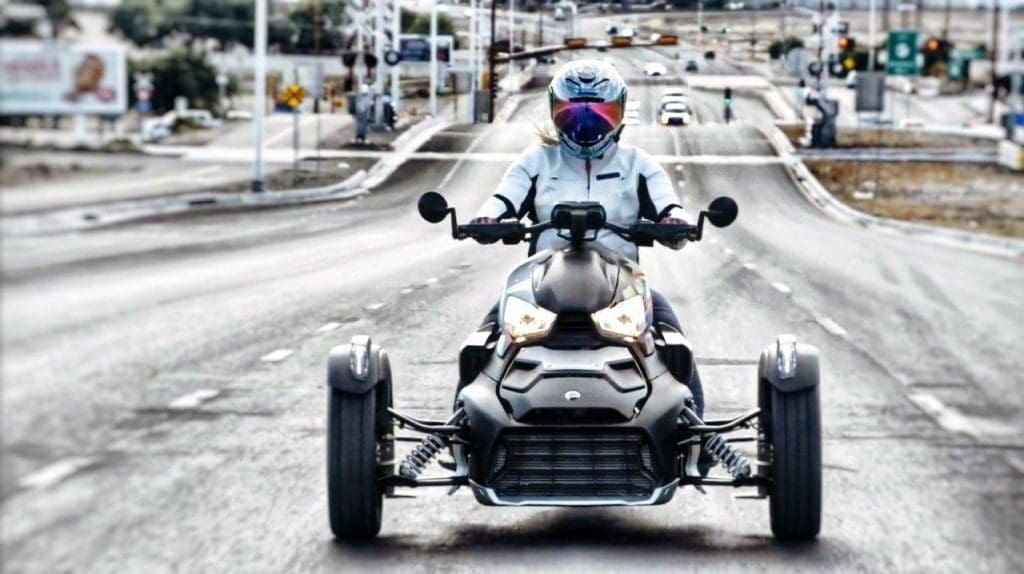 Is it somehow secured?
When it comes to lifting, the Ryker is large – 627 lbs dry – and has a low center of gravity. It cannot be lifted and transported, and moving it onto a trailer or vehicle without power is far more difficult than with a motorbike.
The key fob I described before employs BRP's digitally encoded security system (D.E.S.S. ), and without it, the Ryker would not start and cannot be readily hotwired. They also lack universal parts that may be utilized on a wide range of different vehicles.
With these factors in mind, the Ryker is less likely to be stolen and more difficult to steal, however it is not uncommon for one to go missing. Mine is kept in the garage. To make it even more difficult to steal, a parking brake lock or rotor lock may be obtained.
What about the maintenance?
The Ryker is powered by a final shaft drive. This implies that the Ryker's powertrain requires minimal maintenance and requires no mechanical knowledge. I won't have to worry about cleaning and lubricating a chain, inspecting a belt, or making any modifications on my own. It also means I can keep riding on the gravel and mud without incident.
Oil changes for the Ryker may be done at home, and if you need assistance, YouTube has the solution. All other planned maintenance I simply take to a dealer. The standard prices and maintenance schedule are comparable to those of most current sport bikes – not cheap, but infrequent enough to be economical.
The computer is also meant to learn about a rider's riding style with each incremental mile, and it can even analyze damage. My Ryker informed me when it was due for maintenance, which is something that generally only more costly motorcycles do. Another way the Ryker makes life easier and more enjoyable.
KNOWN 2022 CAN AM RYKER 900 ACE RALLY ROTAX MODIFICATIONS AND TUNING
USER SCORES OF CAN AM RYKER 900 ACE RALLY ROTAX
driving experience for short and long trips
price as new (or used) compared to similiar models
Seat comfort, driving position and rider ergonomics
design and appearance compared to similar models
Engine responsiveness, feel of acceleration and power
Brake feel, ABS response and emergency brake response
SHARE US YOUR EXPERIENCE WITH 2022 CAN AM RYKER 900 ACE RALLY ROTAX
There are no reviews yet. Be the first one to write one.
*All motorcycle specifications (also called SPECS) on our pages are provided by the respective manufacturers.
**Motobase reccomends to install your tuning parts and modifications only at authorized workshops.